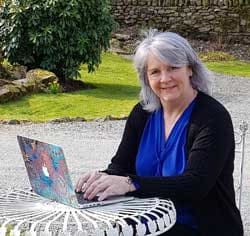 I first met Franco and Jenny in November 2018 when they came to visit Cote How for their show around.
A wonderful couple who spent much of their lives travelling and visiting different places around the globe.
After being together for a fabulous thirty years they had decided it was indeed time to affirm their fabulous relationship by getting married. They were looking for a special place with meaning for them and the Lake District was top of their list as a place with special memories and frequent visits for both of them over the years.
I was so pleased that they felt that Cote How was perfect for them and they pretty much made their decision on the spot.
Travelling from Hampshire they needed a venue that could host their intimate family wedding in a relaxed and family styled environment and with all of the detail taken care of.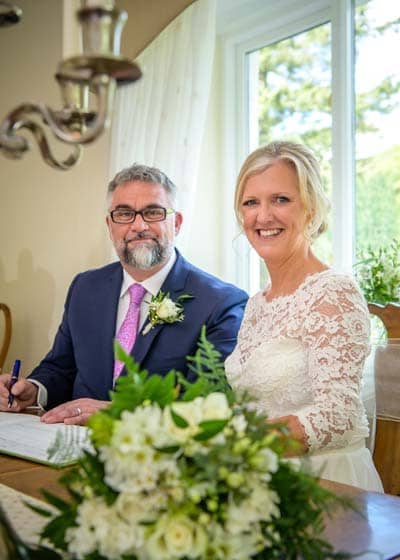 They wanted to hold their wedding as a full and relaxed weekend wedding allowing them to travel up to the Lake District the day before, check in and chill out.
Jenny had organised some beautiful cards for the order of service along with their place cards and wedding favours, which was all they needed to bring along.
Everything else was provided by us, which included the cake, flowers, chair covers and even Simon Hughes the photographer who took all of these marvellous photographs (thank you Simon).
We were all set and the wedding day arranged for early May 2019 – My favourite time in the garden when it is full of blooming spring splendour, and the lake and surrounding hills are adorned with a stunning array of fresh greens and blossom, Azaleas and Rhododendron. The fells were also adorned with bluebells and the air was heady with it's sweet perfume! Magnificent!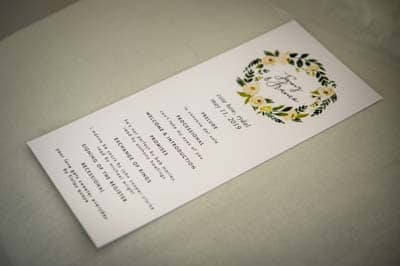 Franco and Jenny opted for the Fairfield ceremony room for their 14 guests. This is an opulent room dressed with over-sized gilt mirrors and chandeliers. The fabulous double aspect views creating a light and airy atmosphere and stunning views from every angle.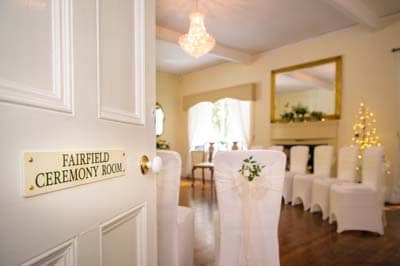 Guests arrived to arrival drinks on the house terrace and Woodrow reception room and chatted while the registrars settled in and conducted their interviews.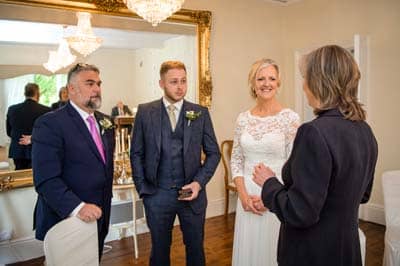 The all inclusive wedding included fresh flowers, dotted around the venue in a selection of dainty jars and are a great way of bringing colour and scent to the room. Jenny opted for classic whites and they were stunning!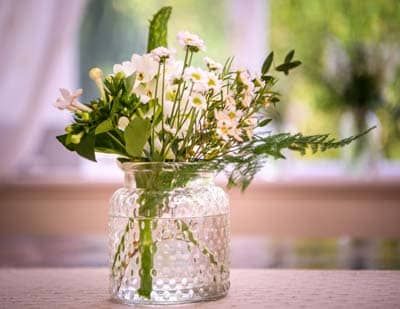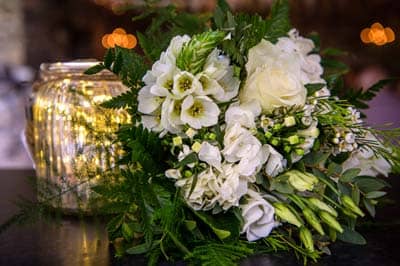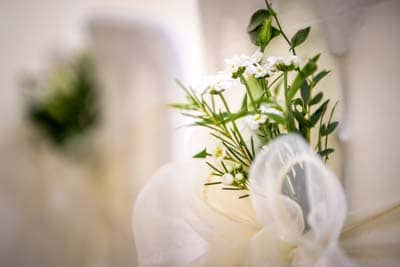 The room was arranged in an intimate and friendly circle with the bride and groom's chairs offset for the readings. This seems a more cosy and intimate setting where the couple stand in front of the ceremony table looking towards their family and friends and the registrar stands at the other end – This way the whole focus is on the happy couple. It works a treat! Just a quick chat with the registrar to check the details and we are ready to go!
Franco and Jenny opted to walk in together and chose some wonderful entrance Music "Can't take my eyes off you" by Andy Williams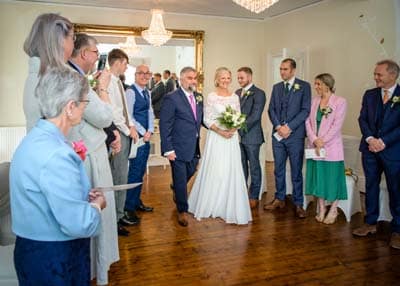 Afterwards I always manage to get in there to get my signing of the register pic – You can see Simon got me too!
Franco and Jenny signed the register to "The Book of Love" with Peter Gabriel followed by "What a Wonderful World" by Louis Armstrong
The confetti was thrown as the happy couple emerged from the ceremony room via the french doors onto the garden to the sound of "Your Love Gets Sweeter" by Finlay Quaye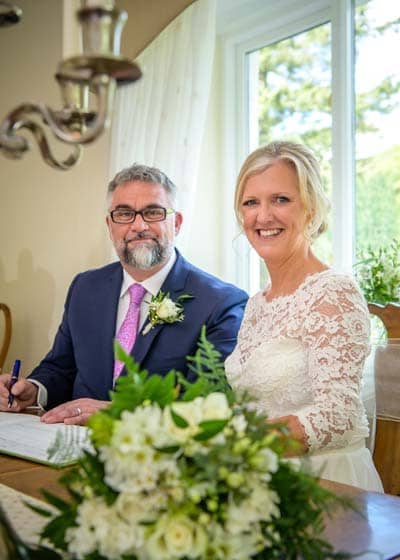 Paul one of the Kendal Registrars giving Jenny her Marriage Certificate! 30 years in the making! 🙂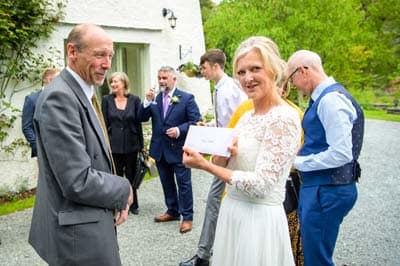 Time for a few family portraits in the garden…
and canapes and drinks on the terrace…
before leaving the guests with us while they saunter down to the Lake edge of Rydal Water for those all important photographs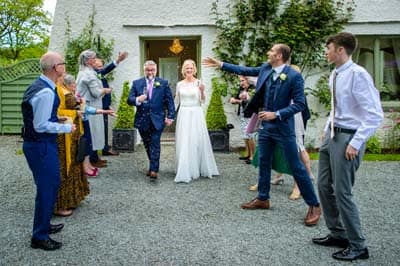 The Rydal Water oak tree is featured in so many wedding photographs but it looks different every time, bathed here in beautiful light and newly emerged oak leaves!
Stunning views across the lake to the distant mountains of the central lakes, clearly visible with lovely light here
The cake was a classically styled lemon cake iced with ivory and decorated with raffia and fresh flowers to match the flower jars and chair backs, bouquet and buttonholes.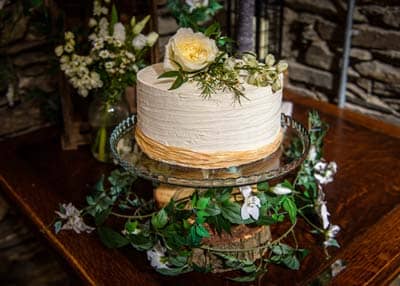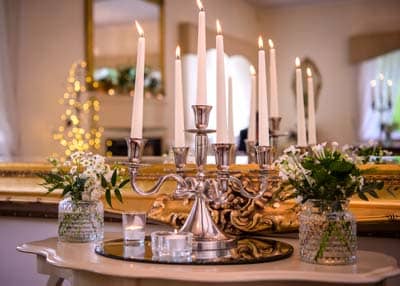 Franco and Jenny opted for the "square polo" A great set up for a sociable wedding dinner where everyone can chat and see one another. Everyone loves this set up and we can offer this layout for weddings up to 24 
We love the middle of the polo, always adorned with logs, lights and flowers!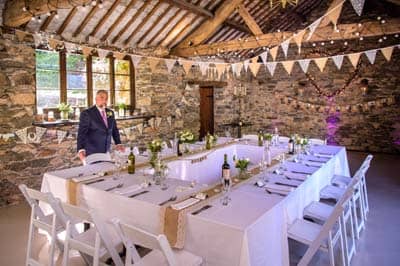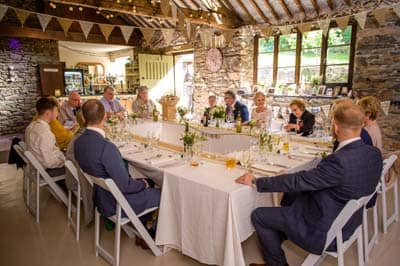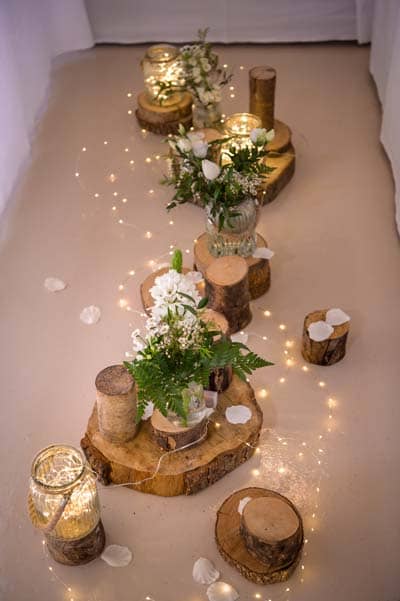 The dinner table from the couple's view – Looking out of the open barn doors And the barn window ledge decorated with flowers, candles and lights with homage to absent friends x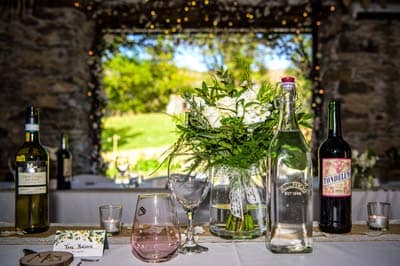 Speech time! and time to look around the barn at the many photographs Franco and Jenny had printed out and pegged all around the barn to celebrate their 30 years together all over the world!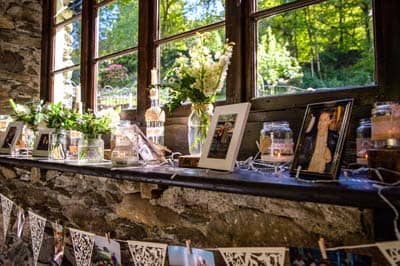 We absolutely loved this wedding – Franco and Jenny and all of their guests were lovely and very interesting people! 
Here is what Franco and Jenny had to say about their wedding….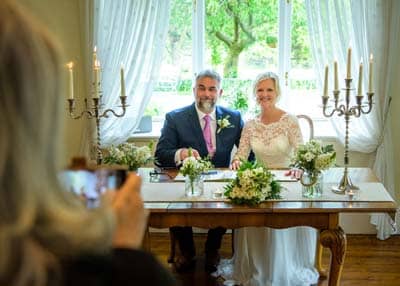 "After being together for 30 years and making the decision to finally get married, from the moment we saw Cote How and met Caroline we just knew this was the place for us. Whilst we currently live in Hampshire, the Lake District has personal connections for both of us and Cote How full of Lakeland charm in a stunning location close to Rydal Water, was the perfect setting for us to hold a small and intimate wedding with the people we love.  It was certainly worth the wait, with every detail taken care of by Caroline, Steve and and their friendly team.  The food, flowers, cake and overall decor were clearly all made and presented with care and looked stunning too! The weather was kind to us so we were able to enjoy parts of the day outside on the terrace, breathing in the lovely fresh air and basking in the spring sunshine, with a glass of bubbles, what wonderful memories! Thanks to Caroline and the team, we were able to completely relax and enjoy every moment of our special day, knowing everything was taken care of.  We had the most perfect day and would certainly recommend Cote How to anyone looking for a small and intimate wedding venue hosted by people who truly go the extra mile to make you feel special. Thank you so much Caroline and Steve, you're amazing!"
Jenny and Franco May 2019
read more about our weekend weddings here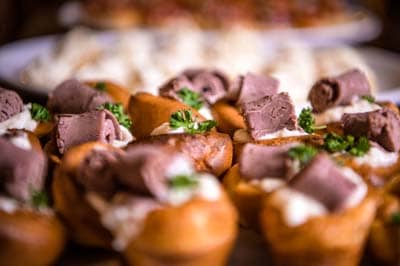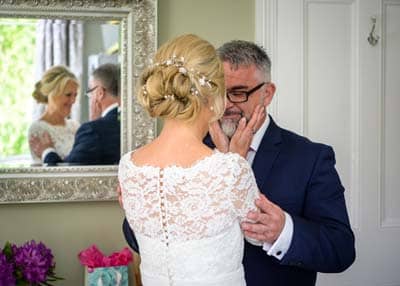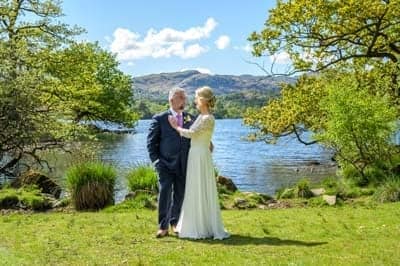 If you feel that a small and intimate wedding is what you are looking for please get in touch by completing our enquiry form here and downloading our current wedding brochure below. 
We are also offering virtual show aorunds our beautiful venue.
To se eall of these videoas please subscribe to our You Tube channel here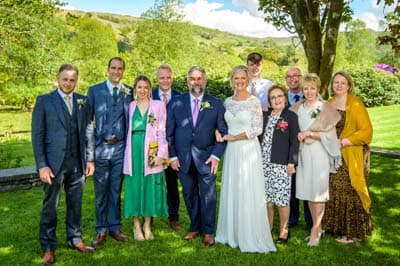 Follow us on Social Media here