ELOPEMENT WEDDINGS IN THE LAKE DISTRICT
ROMANTIC WEDDINGS FOR JUST TWO
Runaway Romance in a Place that you Love...
Elopement wedding packages for just the two of you. Perfect for couples wishing to tie the knot in a simple but romantic way, away from home, and sometimes done in secret!
Frequently our elopement couples have been together the longest (25 years is not uncommon) and usually travel here from all over the UK and abroad. So including your elopement wedding within a holiday is often the perfect relaxed and intimate way of tying the knot!
It is a totally chilled wedding involving a classic ceremony in a beautiful destination (indoors or out) and has an extra romantic almost cheeky feel. Usually arranged with just a few months to go, it brings out the spontaneity in you!
LICENSED Ceremony Spaces...
There are many elopement venues to choose from, and recently a trend towards eloping in remote places. These are fabulous elopements, but to be legally married in England you still require a licensed venue, or you can get married ahead of your elopement wedding in a registry office.
Here at Cote How we can offer you both with our elopement wedding packages. We have a choice of licensed ceremony spaces, and we also have an amazing location for your elopement pictures, so you can do your elopement wedding here all at the same time.
Our licensed spaces are beautifully designed to be a cosy and loving space for two and can be indoor or outdoor depending on the time of year and your preferences: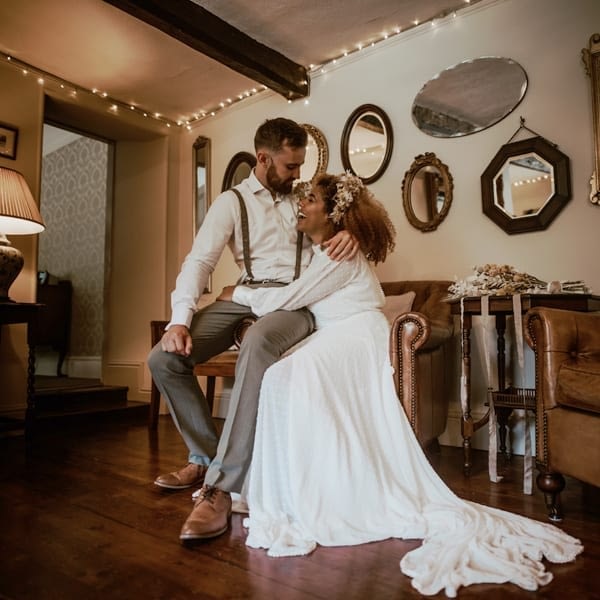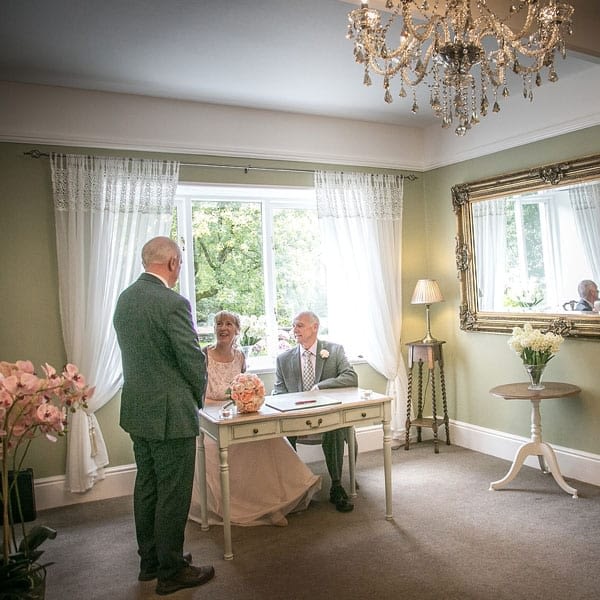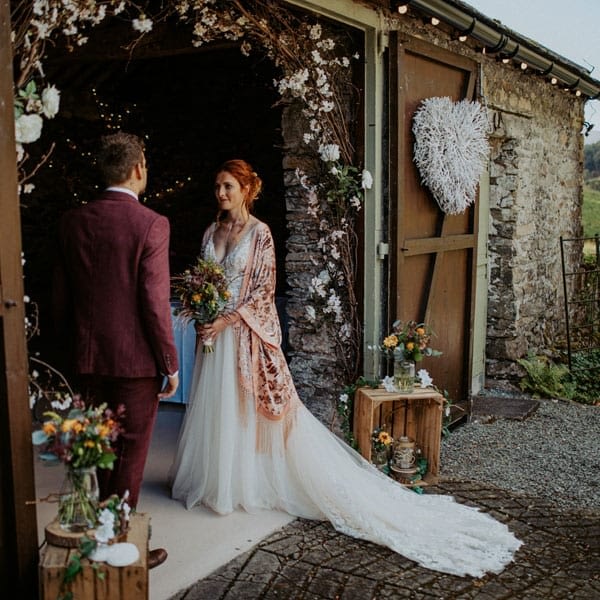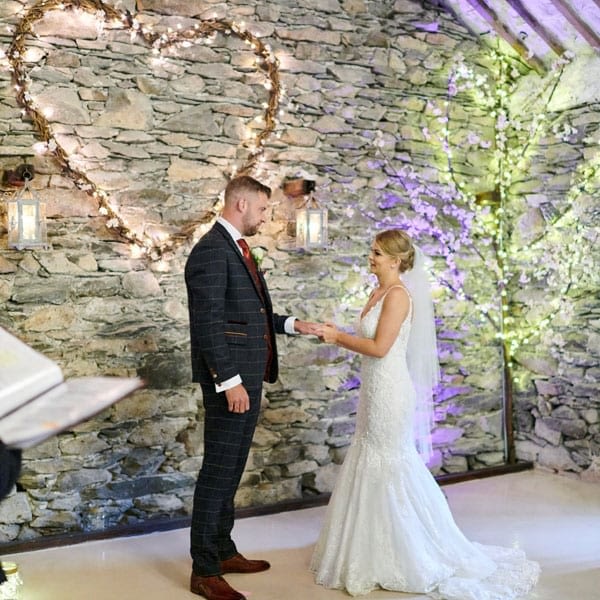 The Perfect Wedding for TWO...
Lake District Elopement Wedding Packages
This is our statement two-hour elopement wedding for TWO
ALL elopement weddings include:
A TWO-hour wedding available as a legal morning or afternoon ceremony 
Maximum 2 people – Yes, that is just the two of you! 
Your own dedicated wedding planner – Caroline, will guide you through the whole process; no need to worry about forgetting to do anything!
Your own interactive online personalised Wedding Hub containing all of your important documentation; checklists, invoices, payment schedules and upload centre.
Total Privacy: Exclusive use of the entire venue for the duration of your wedding – This means there is only you at the venue.
Wedding-ready venue adorned with silk flowers and candles.
Your personalised Civil Ceremony in a choice of locations (see options above)
Your own ceremony music – played by us on your behalf
Compilation of your Spotify playlists if required
Post ceremony glass of prosecco
Us as your own personal witnesses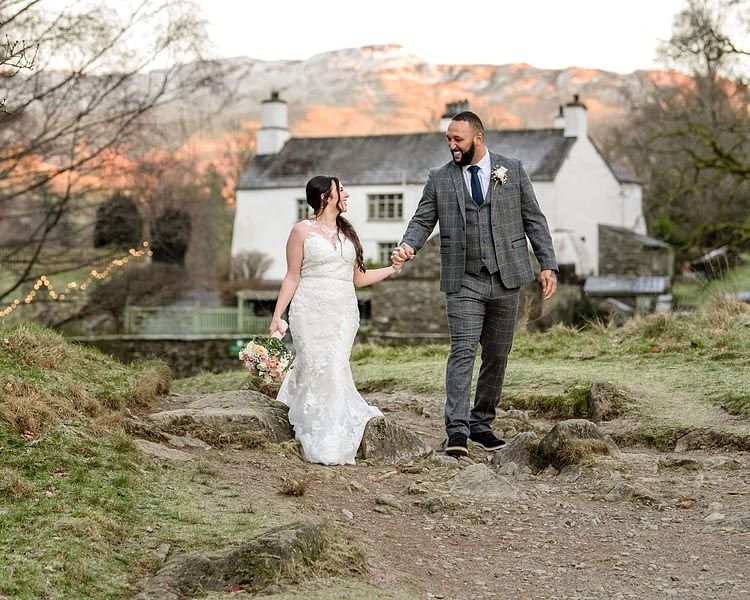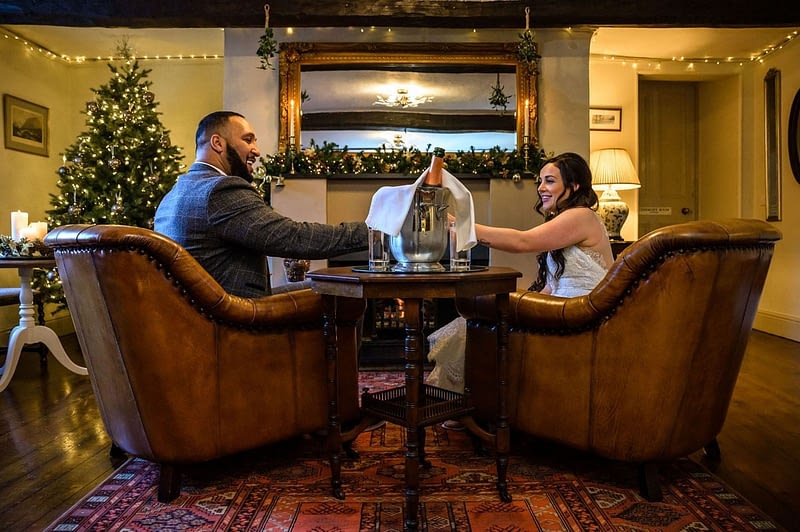 This is our extended four-hour elopement wedding package for TWO. Designed for those adventurous couples looking for an amazing outdoor destination wedding with an official wedding ceremony in a licensed venue
Includes all of the above PLUS: 
An additional two hours – making a FOUR-hour elopement wedding to allow a further hour with your own photographer to explore the local area a little further afield from the gardens and lakeshores of Rydal Water. This may include donning your hiking boots and walking up onto the fells to include Rydal Caves and the surrounding mountainous landscapes to capture some iconic adventure wedding shots.
(This part is purely optional – You may choose to sit and celebrate in total privacy in and around Cote How) 
A rustic picnic of classic Cumbrian delights, including locally smoked cold meats, local cheeses, artisan bread, homemade relishes, and fresh garnishes to be enjoyed anywhere in the house, gazebo or grounds. You will enjoy total privacy with the venue to yourselves for the duration of your wedding.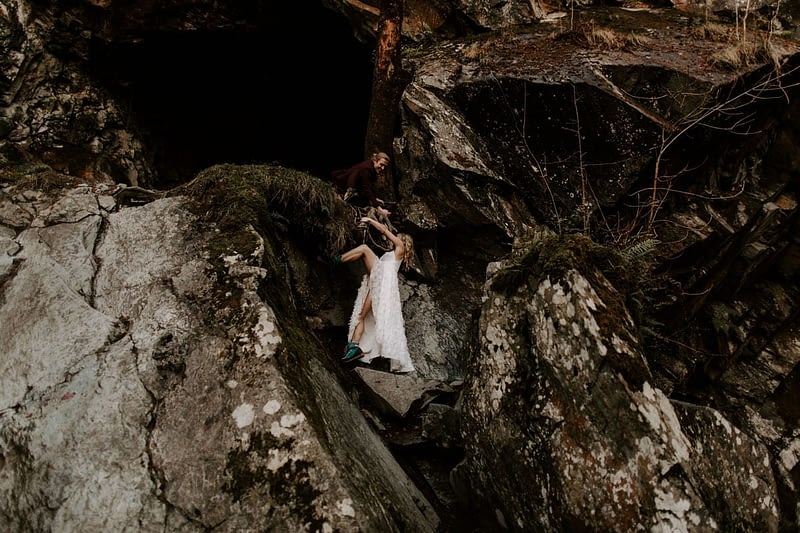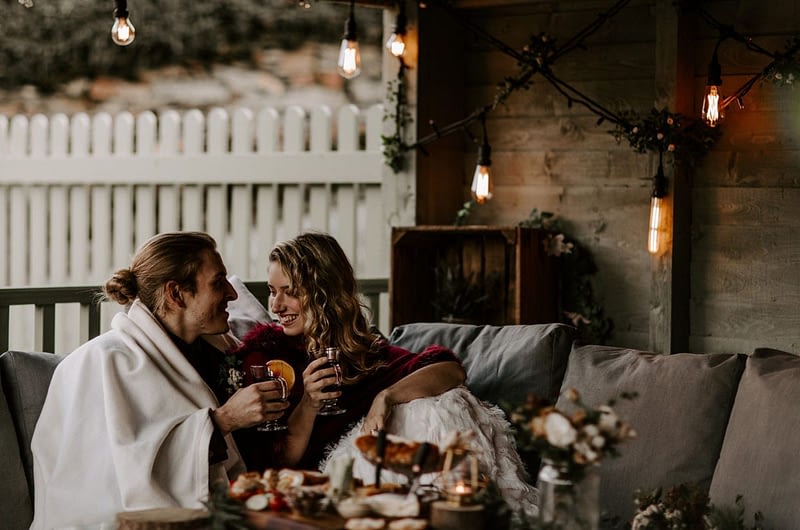 Fresh Personal Flowers – Bouquet & Buttonhole
Upgrade prosecco to English Sparkling wine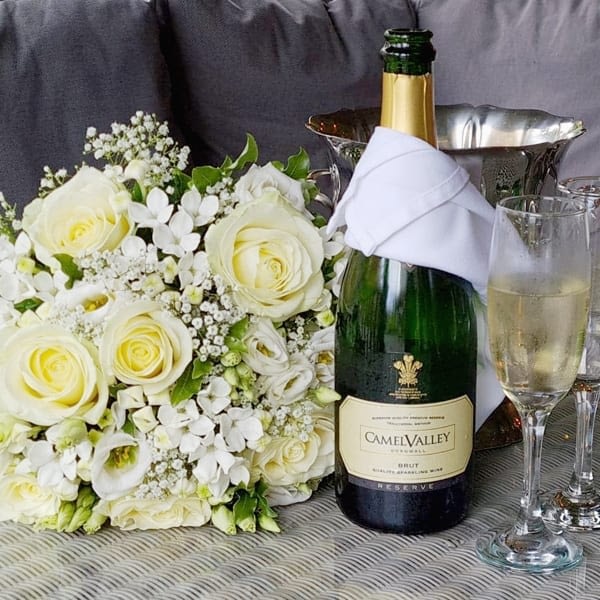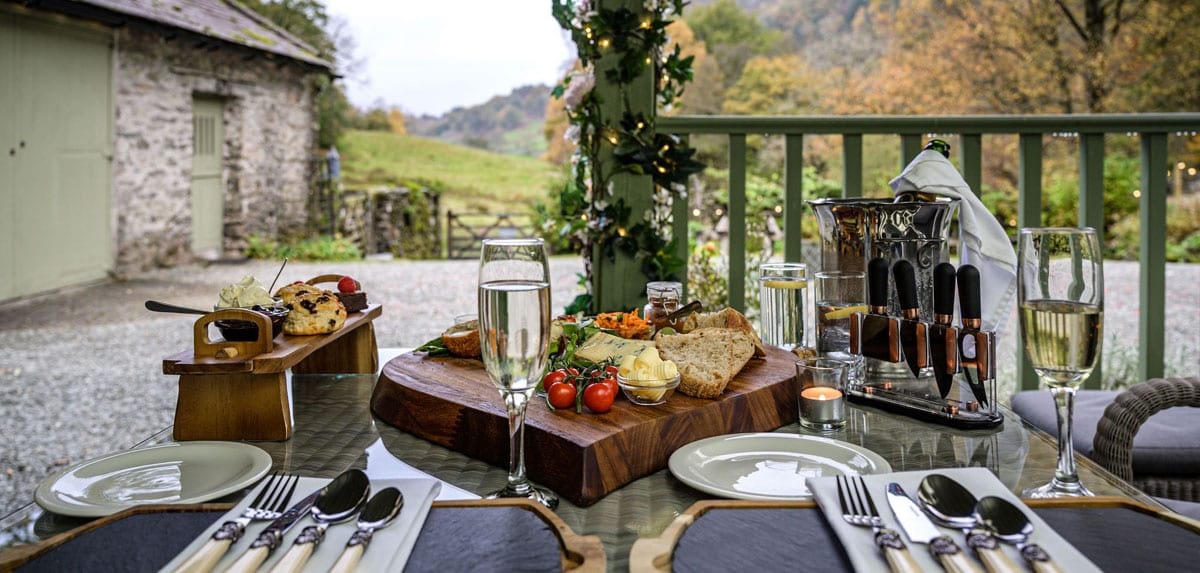 Real Elopement wedding REVIEW...
The best day of our lives bar none!
After being together for 12 years we decided to have a secret elopement wedding. We had fantastic support and advice from Caroline throughout which led to a totally stress-free wedding. Caroline called the day before the wedding to chat and to suggest an outdoor venue in the Barn which we were really pleased about. We got there on the day, and whilst we knew roughly the views, we were absolutely blown away by how stunning it was. Caroline and Steve left us to relax outside listening to some of our favourite music, at which time the buzzard decided to join us in an adjoining tree. The ceremony was perfect, and afterwards, I put my walking boots on and we wandered down to the lake for some amazing pictures. Then a quick walk over the bridge to catch the open-topped bus back to Ambleside and a few well-deserved glasses of fizz. We really couldn't have had a better day – thank you!!!!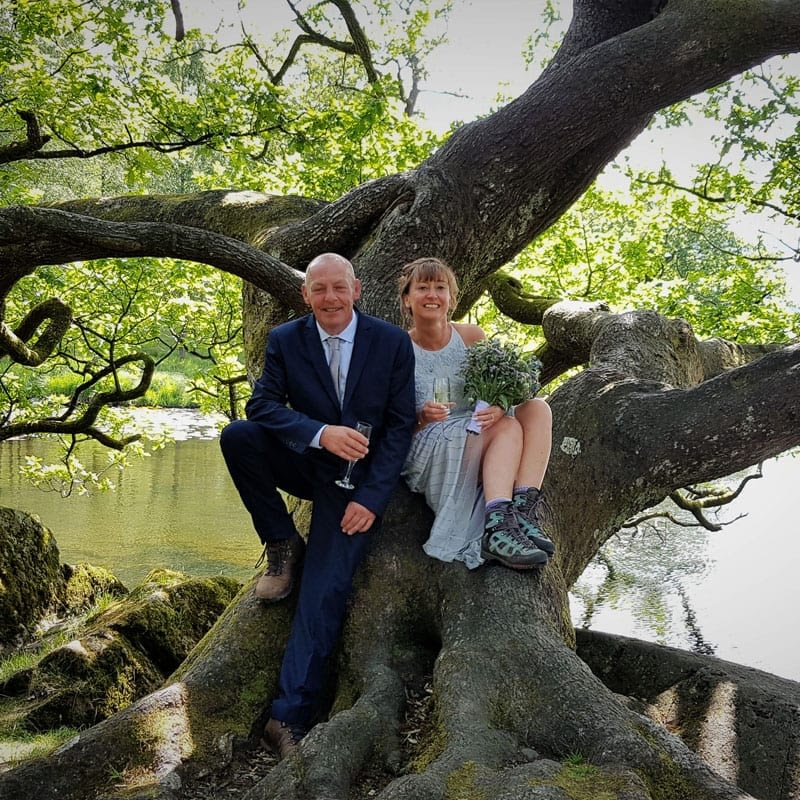 Simple Relaxed & Romantic!
KAREN AND ANDY's ELOPEMENT WEDDING AT COTE HOW
Below is a short YouTube video of a typical summer elopement here at Cote How.
Karen and Andy just love the Lakes and come here at least twice a year. So for them, it was an easy decision to elope to the Lakes. 
They didn't want a large wedding back at home, where they felt under pressure to have a much bigger wedding than they wanted, so going away to get married was the perfect solution for them. 
They booked a lovely hotel in Ambleside (the Salutation Inn which has some lovely hot tub rooms) took a taxi here and enjoyed a fabulous elopement wedding here in private at Cote How. 
A little cuppa and a few minutes of chat with the registrars and then we were good to go.
We had set up the ceremony just inside the eaves of the barn, and Karen and Andy made their entrance from the house. The ceremony was delightful and very emotional for them both. The cork popped itself form the prosecco just as they made their vows and they celebrated outside the barn to the gentle strains of swing classics – Their favourite songs on a Spotify playlist, just set the mood for their romantic celebrations! 
They were joyous, dancing, toasting, kissing in the bright sunshine on the terrace overlooking the stunning Rydal valley.
They then took a short stroll to the lakeshore for some little pics by the old oak tree as you can see.  Karen then telephoned her nearest and dearest to let them know they were now married, before departing back to Ambleside on the Open Top bus from Rydal – The 555 – What a treat!  I love it!
Fancy Eloping to the Lakes?